Code Dig Yukti 2022
30 Jun 2022 - 30 Jun 2022 | Organized by: Information Technology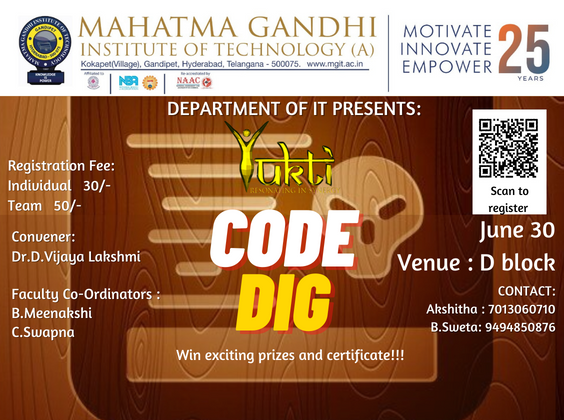 Website
|
Registration Form
|
Brochure
Code Dig is an opportunity to showcase your debugging skills. Participating in an event as such will show your enthusiasm as a programmer. The event aims to test the ability of a coder to find bugs in a given code.
Venue:
Event Guidelines:
You'll be provided with a code that has errors. All you have to do is debug the code and run the program.
If the code runs correctly without any errors then congrats you'll be the winner.
and if you can't run the program the one who finds maximum errors in less time will be the winner.
Certificate will be provided to all the registered participants who attend the event
The last date for registration is on or before 30 June 2022, 9:00 AM or spot registrations are also accepted at D- Block.
Staff Coordinator: 
Ms.B. Meenakshi
Ms.C. Swapna
Student Coordinator:
Ms.A. Akshitha
Ms.D. Divya SeshaSree