IGNITO – 2022
30 Jun 2022 - 30 Jun 2022 | Organized by: Mechanical Engineering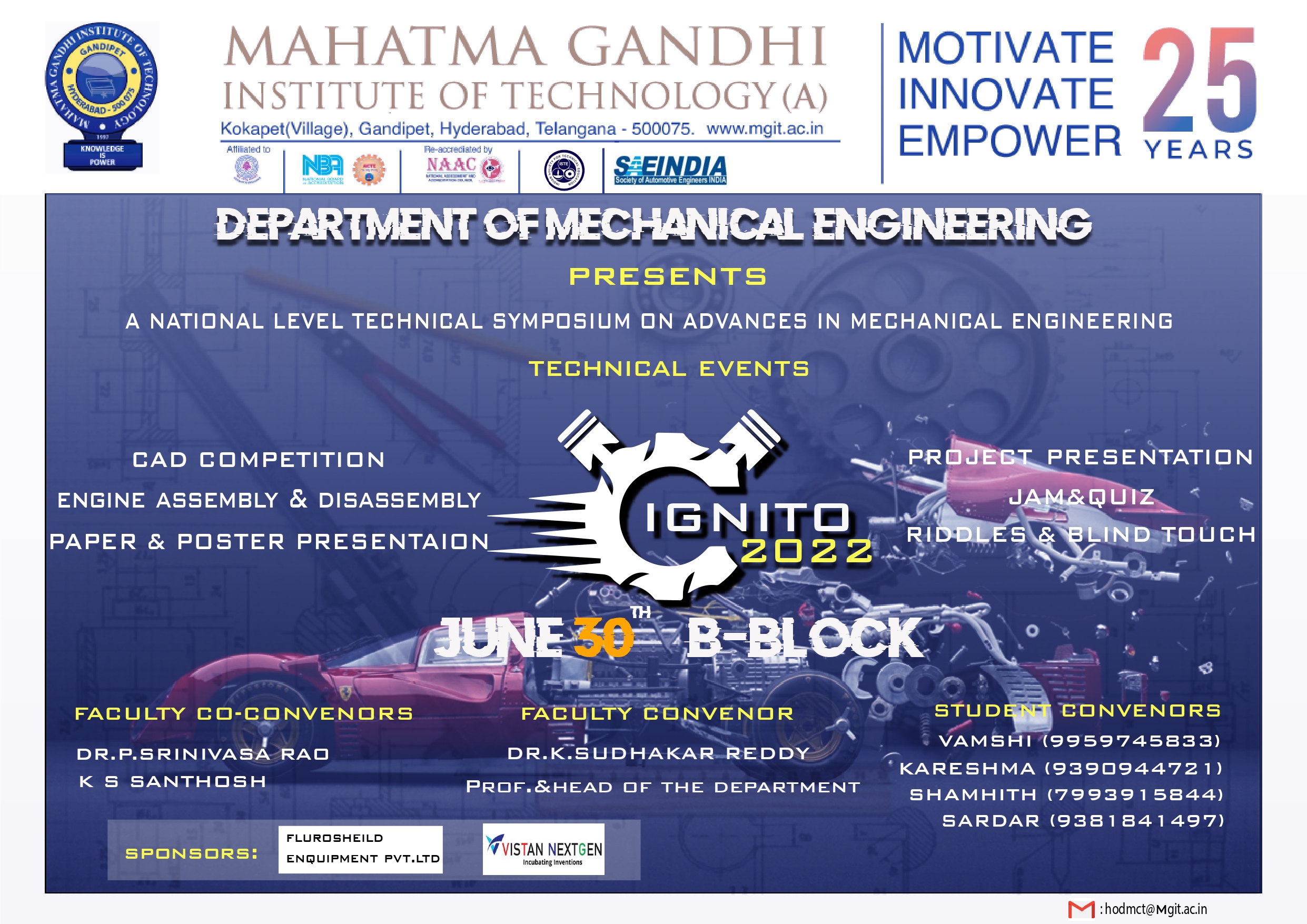 Website
|
Registration Form
|
Brochure
Since 2012 the Department of Mechanical Engineering at MGIT annually organizes IGNITO – A national level technical symposium on advances in Mechanical Engineering. The symposium is conducted in the vicinity of MGIT, and it brings together the students to exchange and share their experience, new ideas and research results about different aspects of recent advances in the mechanical field and discuss the practical challenges encountered in the industries and the solutions adopted. The event of this symposium is intended for the students from Mechanical, Mechatronics, CIVIL and Instrumentation engineering departments for up-gradation of knowledge and skill in the concerned areas.
Venue:
Dept of Mechanical Engineering in the B Block, MGIT, Gandipet, Hyderabad
Event Guidelines:
Submission of the Google form for participant registration for the concerned event (link is provided above),
Whatsapp Link will be provided below for all the registered participants. Participants must join the group for receiving the Information regarding the events.
E-Certificate will be provided to all the registered participants those who attend the events.
The last date for registration is on or before 30 June 2022 @ 11:00 AM.
Link to Join Event WhatsApp Group:
Convenor:
Prof.K.Sudhakar Reddy, HOD Dept. of Mechanical engineering
Co-Convenor:
Dr. P Srinivasa Rao
K S Santhosh
Student Convenors:
VVS Vamshi
S K Kareshma
Shamhith Reddy
Mohd Sardar
Student Co-Ordinators:
N Srikanth
J Lakshmi Deepak
K Prannoy
Staff:
Faculty of Mechanical Engg Dept.
Others:
B Rahul Rao
Priyesh Nair
Veda Kumar