India Design Week 2023 by Autodesk on FUSION 360 software, in collaboration with ICT Academy
19 Oct 2022 - 20 Oct 2022 | Organized by: Dept. of Mechanical Engineering (Mechatronics), ICT Academy , AUTO Desk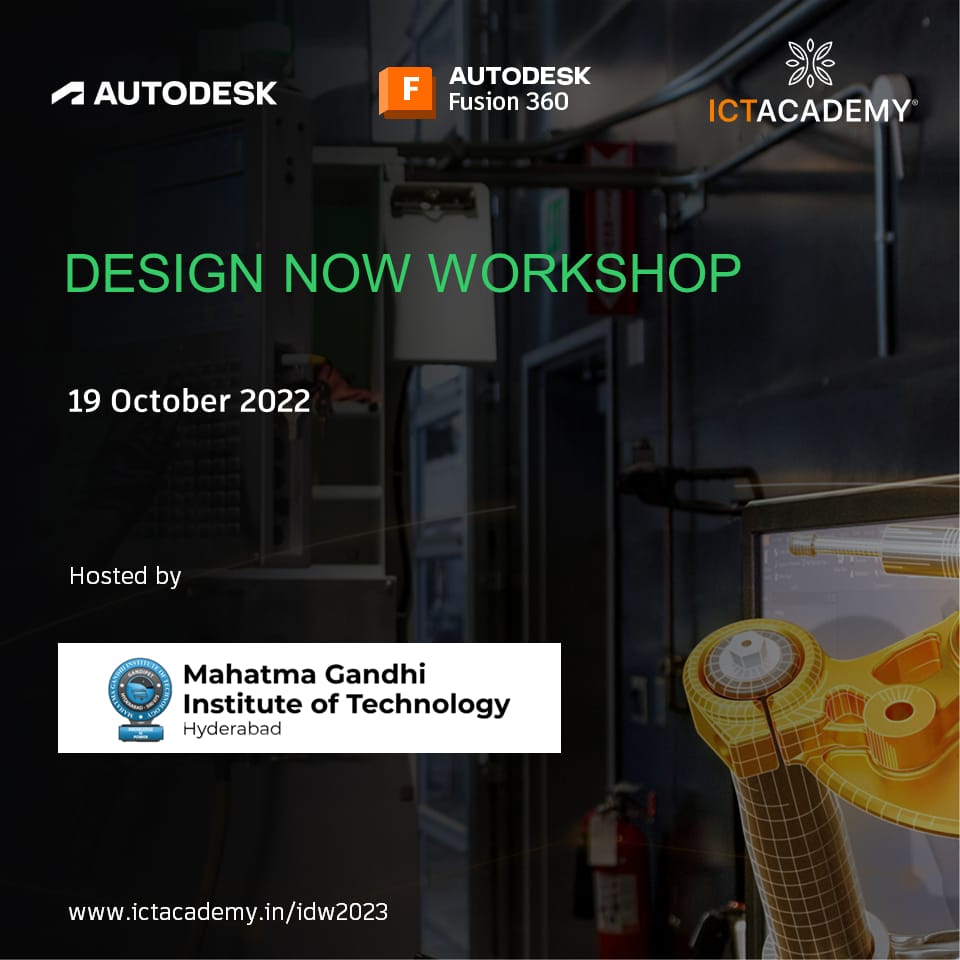 Website
|
Registration Form
|
Brochure
India Design Week (IDW) 2023 is the largest Design Event for budding engineers who will come together to learn and design for various problem statement.IDW 2023 event aims to foster young talent minds in technical design and expose them to all aspects of product design process using the Autodesk FUSION 360 software. IDW 2023 is open for ICT Academy member Engineering Colleges & Universities of Tamil Nadu, Andhra Pradesh, Karnataka, Telangana, and Delhi NCR & Maharashtra State. This event is powered by Autodesk and organized by ICT Academy.
Venue:
Dept of Mechanical Engineering(Mechatronics), MGIT, Gandipet, Hyderabad
Event Guidelines:
Participants are requested to refer the above google form link for event registration.
Event platform: Cisco Webex
After submitting the Google form for participant registration for the IDW 2023, Whatsapp Link will be provided. All the registered participants for the same must join the Whatsapp group for receiving information regarding to the IDW 2023 competition.
Attending all the sessions and submission of assignments cum attendance form by participants is mandatory.
Feedback cum attendance will be collected at the end of the session.
E-Certificate will be provided to all the registered participants who attend all the sessions and submit assignments with in time specified, feedback cum attendance forms at the end of each session.
The last date for registration is on or before 18th October 2022, 7:00 PM.
Link to Join Event WhatsApp Group:
Resource Persons:
Advisor:
Prof. G.Chandra Mohan Reddy, Principal
Convenor:
Prof. K.Sudhakara Reddy, HOD & Vice-Principal
Coordinators:
MGIT MCT –ICT Coordinator B.Rama Krishna
IDW Coordinator @ MGIT:
Supporting Staff: 
Prof. Satya Suresh, K.Prudhvi Raj, Y.V.N Chandana, K.Udayani , Dept of Mechanical Engineering