MICROCOSM' 22
30 Jun 2022 - 30 Jun 2022 | Organized by: Electronics and Communication Engineering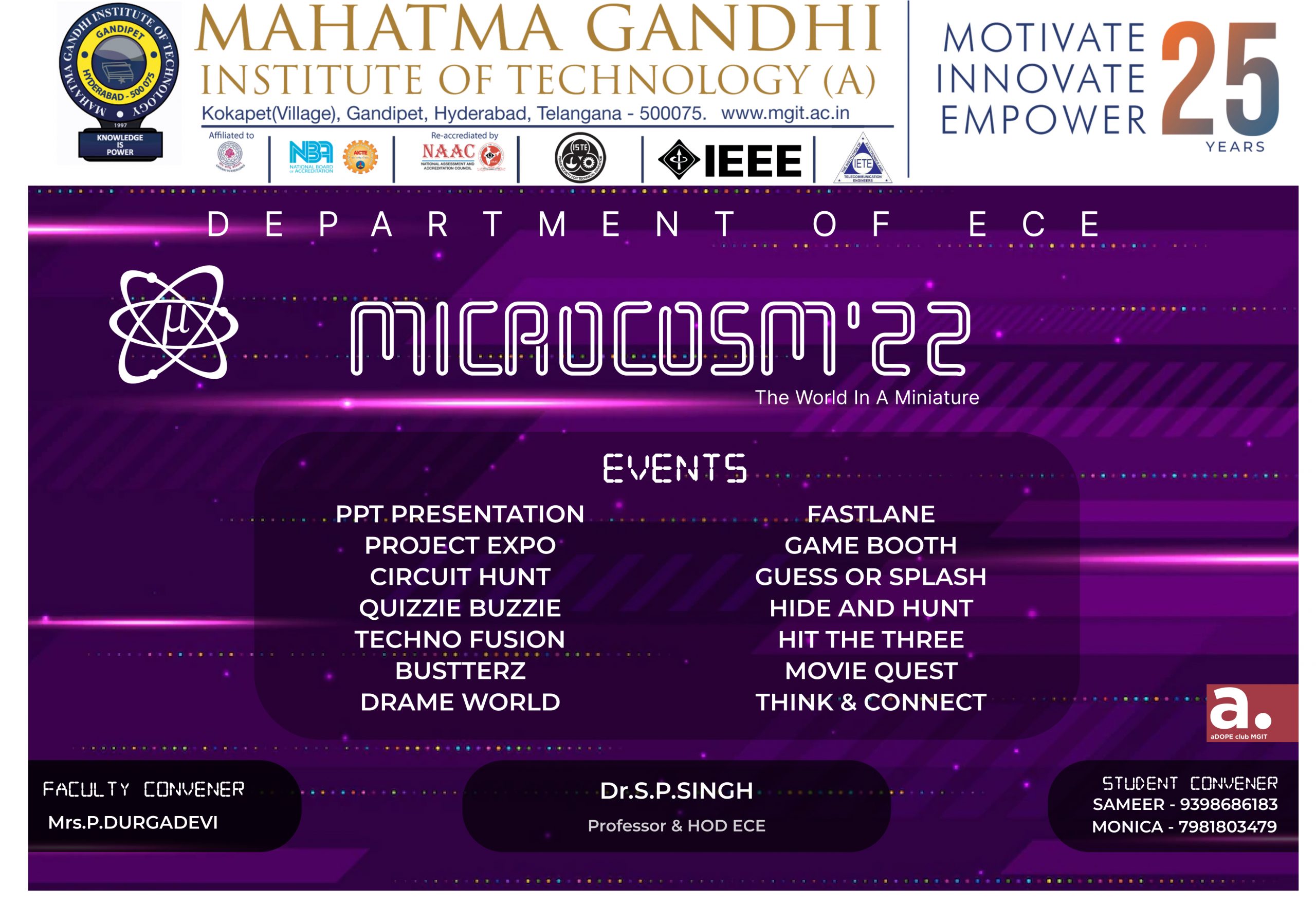 Website
|
Registration Form
|
Brochure
Microcosm is a technical student symposium organised annually by the student community of MGIT through various technical and nontechnical events.
Some of the notable technical events are:
1. Project expo
2. PowerPoint presentation
3. Circuit hunt
4. Quizzie Buzzie
5. Techno Fusion
And the non-technical events are
1. Game booth
2. Hide and hunt
3. Busterzz
4. Hit the Three
5. Fastlane
6.Think and connect
PROJECT EXPO: It is the most prestigious event of the Microcosm, it gives the students a chance to enhance their creativity, develop their technical skills and gives them insight into practical projects!
This year some of the most notable projects presented by students are
* Autonomous Driving car using Arduino
* Piezoelectric effect
* home automation using Arduino
* accident prevention using sensors
The total number of projects is: 10 plus
* PPT PRESENTATION: It gives the students experience of real-time presentation making them learn how presentations are presented in the organizational level.
The notable power point presentations are
1. Piezoelectric energy harvesting
2. Introduction to robotics
3. Lidar Technology
4. Li-fi Technology
5. Cryptography
The total presentations we got this year are: 30+
CIRCUIT HUNT:
Students are given some components and have to separate them according to the colour coding and the values and later they have to connect the circuit given in 3 min
using the components.
QUIZZIE BUZZIE:
It's an event to test your core subject skills which you've learnt the whole year, like outputs of a system equation or technical questions of your favourite selected subject.
Students were as enthusiastic to take part in the quiz to get to their level of understanding.
Some of the non-technical events are organized which acts as a stress buster to them and give them some fun time
And the NON-TECHNICAL EVENTS that highlighted are
Game Booth is a fun-filled game like dominos, Jenga, darts etc.
Think and connect is a creative event that tests your creative thinking skills by giving students a set of pictures through which they need to guess the right connecting word.
Venue:
Guidelines:
Merit certificates are provided for the winners and runners.
E-Certificates are provided to all the registered participants.
Chairman:
Dr. S. P. Singh, Professor & Head, ECE
Faculty Convenors:
Mrs. P. Durga Devi, Assistant Professor, ECE
Student Convenors:
A. Monica, IV ECE-3
Sameer Khan, IV ECE-2
Student Co-Convenors:
K. Manasa, IV ECE-3
P. Deepanwitha, IV ECE-3