Nexplora – 2023
27 Apr 2023 - 27 Apr 2023 | Organized by: Department of Computer Science and Engineering (Data Science)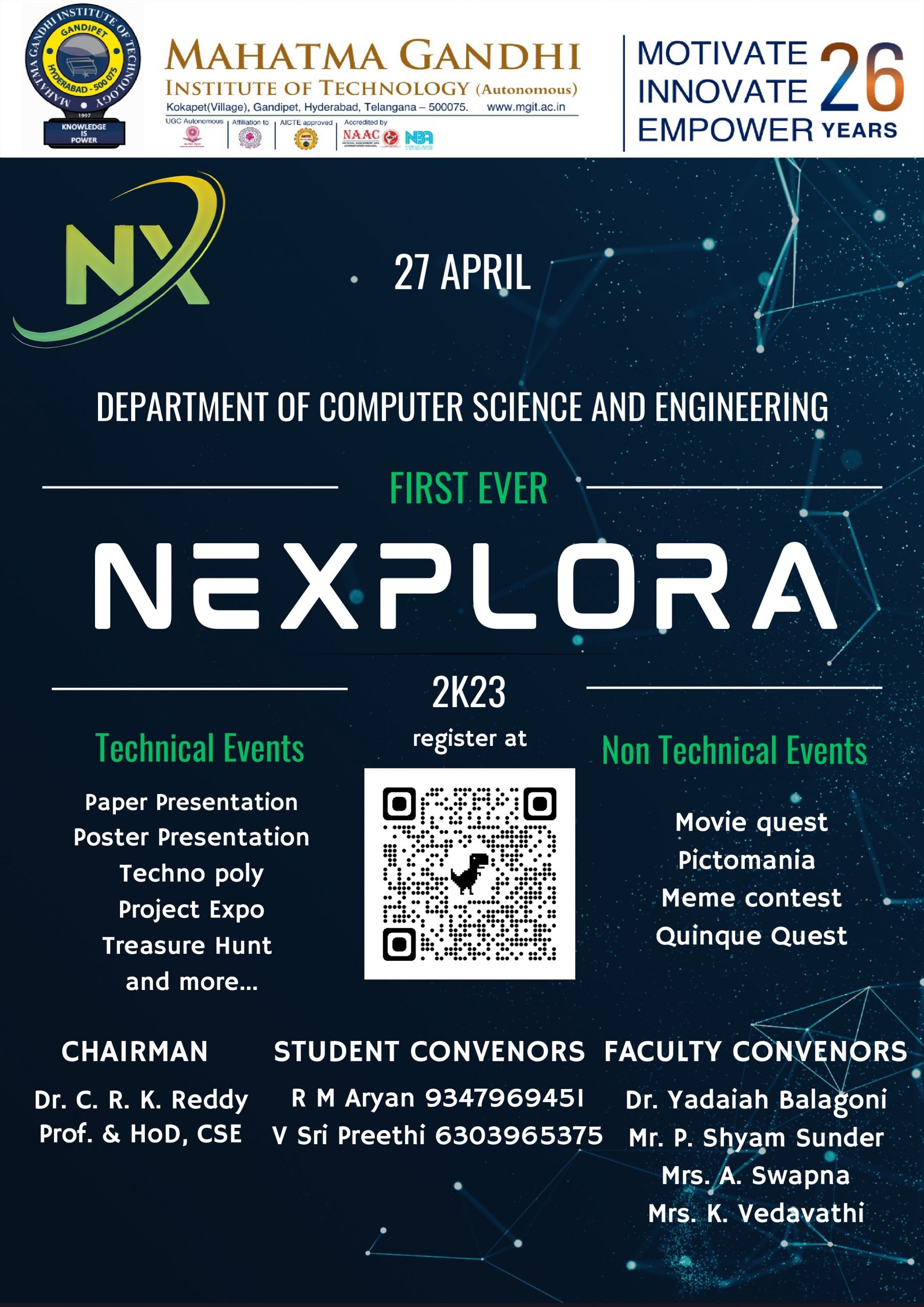 Website
|
Registration Form
|
Brochure
The Department of Computer Science and Engineering with a specialization in Data Science (CSD) is pleased to invite you to participate in NEXPLORA, our first ever branch Tech fest. This event is open to students from all branches and colleges and offers a fantastic opportunity to showcase both technical and non-technical skills and talents. Nexplora will be a dynamic and enthusiastic gathering of like-minded individuals who share a passion for Technology and Innovation.
Nexplora features a diverse range of technical events, including Poster presentation, Project expo, Treasure hunt, Roulette programming, A case study showdown, Technical quiz, and Techno-poly. These events provide an excellent platform for demonstrating your technical expertise and gaining valuable experience in real-world problem-solving scenarios. Additionally, you can participate in non-technical events such as Movie quest, Pictomania, Meme contest, and Quinque quest, which allow you to showcase your creativity, expression, and artistic abilities.
We extend a warm invitation to the esteemed students of MGIT (hint: that's you) to join us on April 27, 2023.
Venue:
Dept. of Computer Science and Engineering in the D Block, MGIT, Gandipet, Hyderabad.
Event Guidelines:
All registered participants who attend the events will receive an E-Certificate. Registration must be completed by 10:00 AM on April 27, 2023, at the latest.
Chairman:
Prof. C R K Reddy, HOD, Dept. of CSE
Advisors:
Dr. A. Nagesh
Dr. M. Rama Bai
Dr. M. Sreevani
Staff Convenors:
Dr. B. Yadaiah
Mr. P. Shyam Sunder
Ms. A. Swapna
Ms. K. Vedavathi
Student Convenor :
R. M. Aryan
V. Sri Preethi