Poster Presentation Yukti 2022
30 Jun 2022 - 30 Jun 2022 | Organized by: Information Technology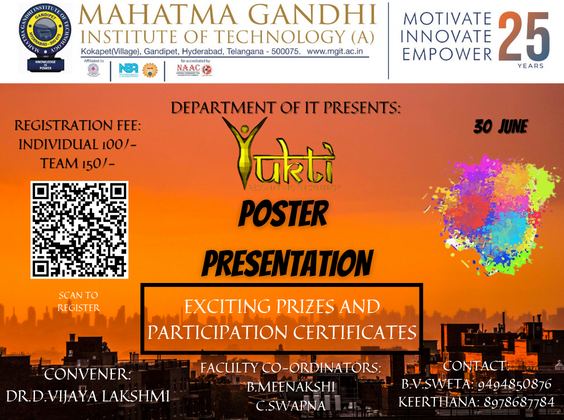 Website
|
Registration Form
|
Brochure
The Event aims to bring out the creative minds of students and express their ideas through a poster.
Venue:
Event Guidelines:
You have to bring a poster and present it to the audience.
Attending event and submission of idea by participants is mandatory..
Certificate will be provided to all the registered participants who attend all the event and submit their idea in the form of a poster.
The last date for registration is on or before 30 June 2022, 9:00 AM.
Staff Coordinator: 
Ms.B. Meenakshi
Ms.C. Swapna
Student Coordinator:
Ms. B. V.Sweta
Ms. B. Keerthana