IGNITO 2023
27 Apr 2023 - 29 Apr 2023 | Organized by: DEPARTMENT OF MECHANICAL ENGINEERING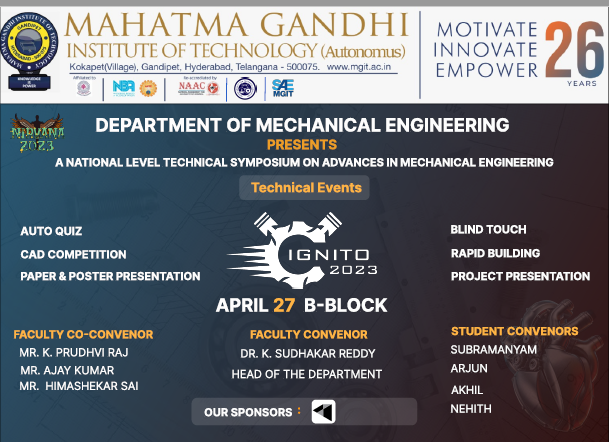 Website
|
Registration Form
|
Brochure
IGNITO is a national level technical symposium being organised by the Department of Mechanical Engineering, MGIT
The symposium aims to bring together the students from different fields to exchange and share their experiences, ideas and research about the most effective practices in the field of Mechanical, Robotics and many other related fields.
It also provides hands-on sessions on Mechanical and allied fields with their multi situation applications.
The events of this symposium are intended for students from Mechanical and some allied departments for enhancement of knowledge, skills and competency in the areas of Automobile in various applicable scenarios, Artificial intelligence and IOT based mechanical systems.
Overall this is an all round development symposium focusing on multiple aspects of technology and its application.
Venue:
Dept Of Mechanical Engineering, B-Block, MGIT, Gandipet, Hyderabad
Event Guidelines:
Participants are requested to refer the above google form link for event registration
All the participants will be provided with a Whatsapp group link for any updates and queries regarding the event
E-Certificate will be provided to all the participants who attend the Event.
There is no last date for registration, participants can register for the event spot on.
Convenor:
 Prof.K.Sudhakar Reddy (HoD, Dept of MCT)
Co-Convenor:
Mr. K. Prudhvi Raj
Mr. Ajay Kumar
Mr. Himasekhar Sai
Student

Convener: 
Student Co-Convener:
Coordinators:
Saandeep sagar
Aravind
Pranay