Industry Institute Interaction
29 Aug 2022 - 29 Aug 2022 | Organized by: Head-Training & Placements, MGIT.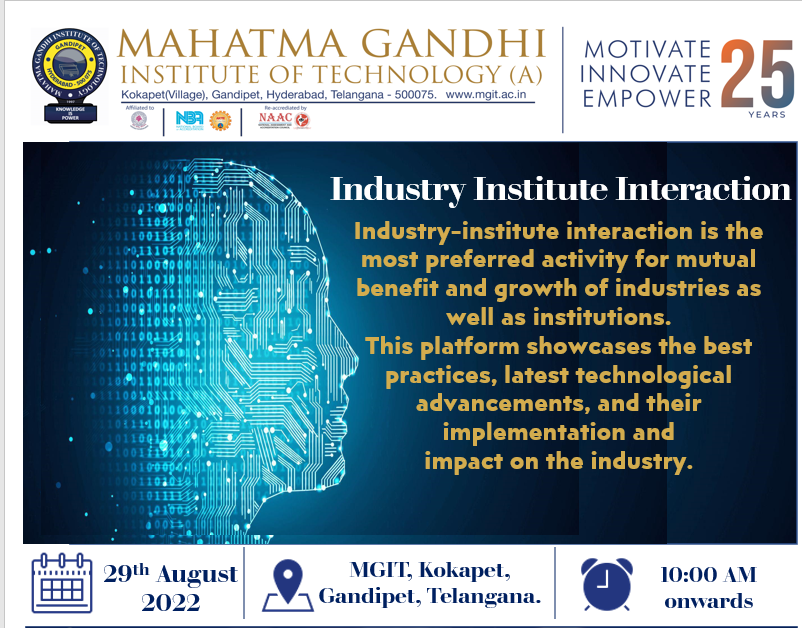 Website
|
Registration Form
|
Brochure
Industry-institute interaction is the most preferred activity for mutual benefit and growth of industries  as well as institutions. This platform showcases the best practices, latest technological advancements,  and their implementation and impact on the industry.
Venue:
Resource Persons:
Dr. P. ChandraSekhar, Director, Technique Design Group.
Mr. Raghavendra Kulkarni, Global Delivery Director, Cognizant.
Mr. M S Subrahmanyam, Delivery-Head, TCS.
Mr. Chandrakant Dhanne, Associate Director, Accenture.
Mrs.Neeraja P.S, Head-Talent Management, Toshiba Transmission & Distribution systems PVT LTD.
Mr. Meka Vijayapal, General Manager, MindTree(L&T).
Mr.C.A. Prasad, Director, METEY Engineering and Consultancy Pvt. Ltd.
Mr.Sriram Bhartur, Director HR & Operations, Modak Analytics.
Mr. Amarender R, General Manager, Nexturn.
Mr. Suresh Varma & Mr. SRK Raju, Sr Vice President & Head-Training,MosChip Technologies Limited.
Mr. U RajiniKanth, General Manager, Appstek corp.
Advisors:
Sri D. Praveen Reddy Chairman, CBES Patron
Sri J. Pratap Reddy, Secretary and Correspondent, MGIT
Prof. G. Chandramohan Reddy, Principal, MGIT.
Prof. K. Sudhakar Reddy, Vice-Principal, MGIT.
Convenor:
Dr. K. Vamshi Krishna Varma, Head-Training & Placements, MGIT.
Gallery: