QUBIT – 2022
30 Jun 2022 - 30 Jun 2022 | Organized by: Computer Science and Engineering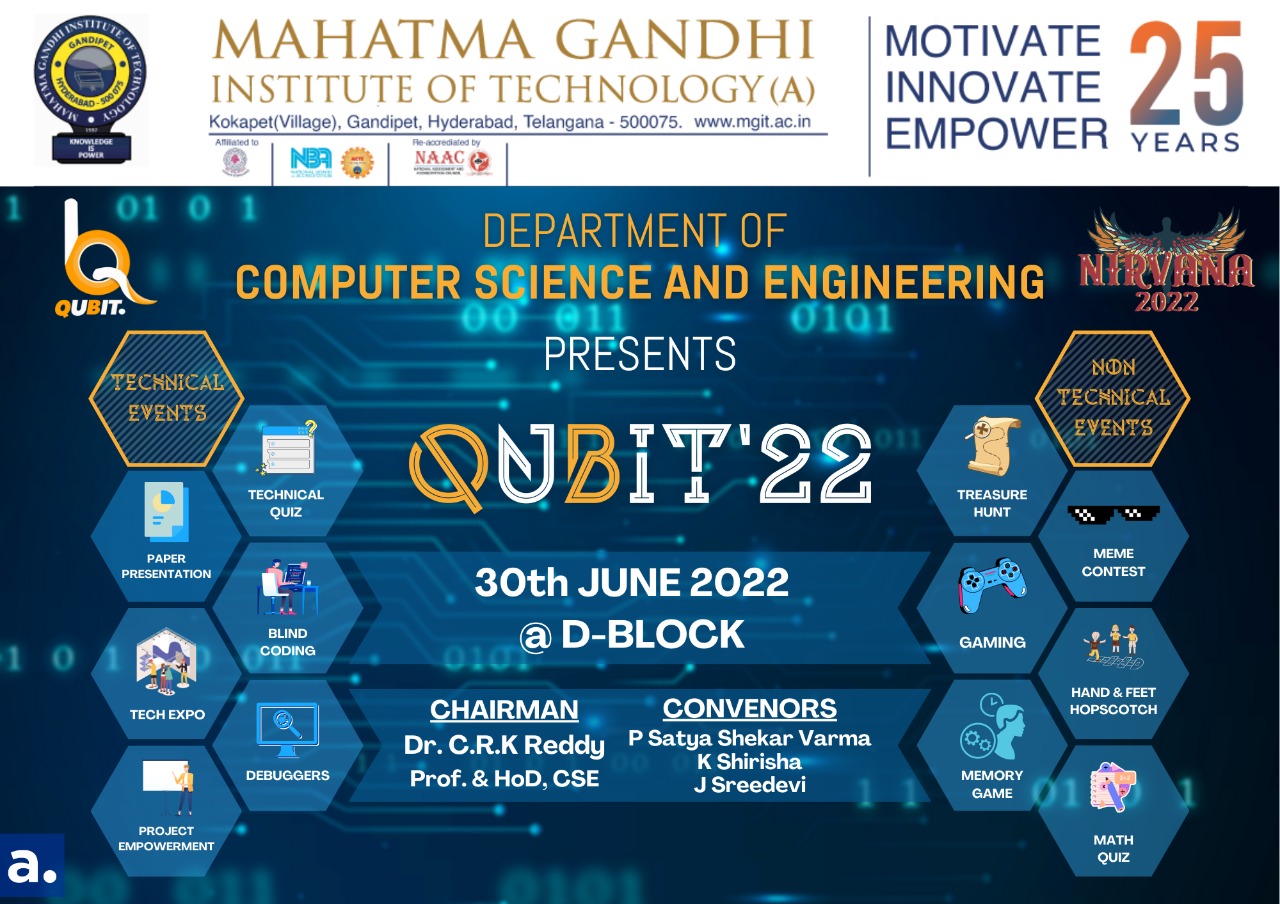 Website
|
Registration Form
|
Brochure
The Department of Computer Science and Engineering annually organizes QUBIT- 2k22 -a National Level Technical Symposium on new and emerging technologies Computer Science and Engineering. The symposium is conducted in the vicinity of MGIT, and it brings together the students to exchange and share their experience, new ideas and research results about different aspects in emerging technologies of CSE.
QUBIT'22 offers technical events like Project Empowerment, Paper Presentation, Technical Quiz, Blind Coding, Debuggers and Tech Expo etc. UBIT attracts the royalty of MGIT with its various events railed up for the joy and enthusiasm. We strive to restore the spirit while bringing novelty to your experiences.
We invite the royalty of MGIT(clue: it's you) to join us on 30th June 2022.
Venue:
Dept of Computer Science and Engineering in the D Block, MGIT, Gandipet, Hyderabad.
Event Guidelines:
E-Certificate will be provided to all the registered participants those who attend the events.
The last date for registration is on or before 30 June 2022 @ 10:00 AM.
Chairman:
Prof.C R K Reddy, HoD, Dept. of CSE
Advisors:
Prof.C R K Reddy
Dr.A Nagesh
Dr.M Rama Bai
Dr.M Sreevani
Convenor:
Mr. P Satya Shekar Varma
Ms K Shirisha
Ms.J Sreedevi