3-Day Hands-On Workshop on Cyber Security
31 Oct 2022 - 02 Oct 2022 | Organized by: Computer Science and Engineering & Information Technology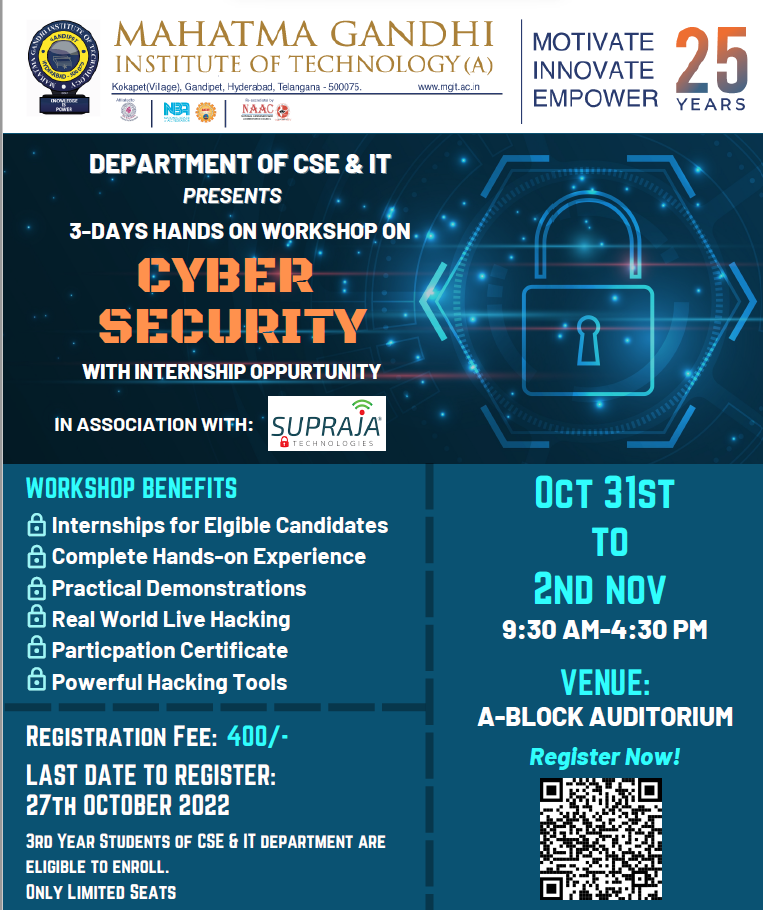 Website
|
Registration Form
|
Brochure
The Workshop aims to provide Complete Hands-On experience on various Cyber Security Tools and Hacking Tools. The Program would enable the students to absorb knowledge on Cyber Laws, Virtualization and Malware. The students can be benefited with Internship Opportunities.
Venue:
Guidelines:
Workshop Platform: Offline
Student must pay Registration Fee of Rs. 400/- in the Fee Counter for the Workshop. All the registered participants have to fill the Google Form given to give their Registration Details.
Attending all the sessions by the participants is mandatory.
E-Certificate will be provided to all the registered participants who attend all the sessions.
The last date for registration is on or before 27 October 2022, 04:00 PM.
Resource Persons:
Mr. Santhosh, CEO, Supraja Technologies & Team
Advisors:
Sri D. Praveen Reddy , Chairman, CBES
Sri J. Pratap Reddy, Secretary & Correspondent, CBES
Chairman:
Prof. G. Chandra Mohan Reddy, Principal, MGIT
Vice-Chairman:
Prof. K. Sudhakar Reddy, Vice-Principal
Convenors:
Dr. C.R.K Reddy (HOD CSE)
Dr. D. Vijaya Lakshmi (HOD IT)
Coordinators:
D S Bhavani (CSE)
J Hima Bindu (IT)
Co-Coordinators:
P Poornima (CSE)
G Naga Sujini (CSE)
CH Lakshmi Kumari (IT)
Supporting Staff: