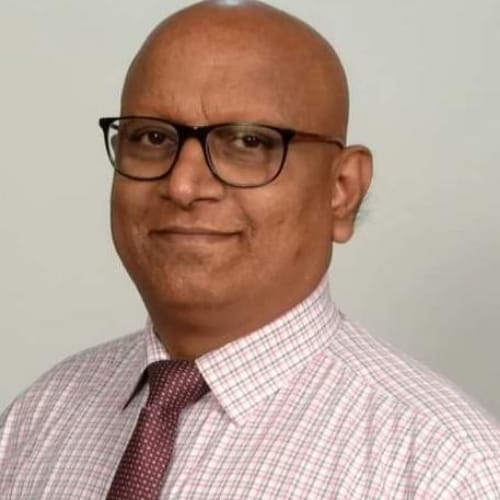 It is my pleasure to welcome you all to Mahatma Gandhi Institue of Technology.
MGIT was established in the year 1997 in a lush, green and serene ambience at Kokapet, Hyderabad. Over the years, it transpired as a dream destination for the students who aspire to shine in Engineering. It has taken definite strides to help the students achieve academic excellence and gain confidence.
MGIT is honoured to be conferred with Autonomous status for the period of ten (10) years by University Grants Commission (UGC), Government of India from the academic year 2021-22. It has witnessed a tremendous progress both in Academics and Infrastructural development in the past few years. With five huge blocks (A, B, C, D & E Blocks) on campus, the institute is currently running Eleven UG and Five PG programs. MGIT received accreditation for 4 years for Six (6) B.Tech Programs from National Board of Accreditation, New Delhi and also accredited by NAAC with 'A' grade.
With the motto 'Knowledge is Power', Our team of excellent teachers and learning resources offer a comprehensive perspective to students through innovative pedagogy, value added programmes, technological assistance and above all strong value orientation. Our Institute has trodden to the exceptional growth and success by paving the way for students to obtain excellence not only in academics but also in co-curricular and extra-curricular activities, showcased with grandeur in organizing techno-cultural fests during the scintillating college annual day celebrations, 'NIRVANA' and Sports Meet, 'EKALAVYA ' .
NSS unit-MGIT ensures that students understand their role for the development of the society by conducting several activities in the college. It encourages the students to participate in blood donation camps, Haritaharam (tree planting), awareness programs on Save Girl Child, Rashtriya Ekta Diwas, Yoga Day, etc. thereby grooming them into socially responsible citizens. Facilities for Indoor and Outdoor sports are provided for the students with training through a qualified full-time Physical Director on the campus. In addition, Invited Lectures from experts in the Academia, Industry and Ramakrishna Math are conducted on a regular basis for the overall development of the students.
We have an excellent recruitment record. Our graduates have been inducted by the leading Indian corporation. Training and Placement Cell is relentlessly working to train the students not just for technological superiority, but also for an overall understanding of the world. we are proud to have our students making a mark in campus placements, hackathons, and other competitions. MGIT hosts Industry-Institute Interaction Programs to understand latest technological practices and advancements so that our students can be trained accordingly.
At MGIT, Career Development Cell (CDC), Career Guidance Cell (CGC) and Entrepreneurship Development Cell (EDC) endeavor to conduct a variety of training programs to transform our students into future technocrats and entrepreneurs and help them excel technically and professionally. The highly qualified and committed faculty members of MGIT work relentlessly for the holistic development of the students, thereby transforming them into the well-groomed and strong-willed intellectuals, with a sense of social responsibility. MGIT owes a lot to its alumni for all its international reputation and national standing. The students come from varied educational and cultural backgrounds. The programs are designed to instill creativity, innovation, leadership, teamwork and global focus into its participants. Be it the core engineering, IT & ITES, armed & special forces, research and teaching, consulting and investment banking, administrative and social sectors, our alumni have excelled in each and every field and made us go proud.
The Institute encourages and provides the facilities for promoting basic research as there is a dire need to encourage the culture of Research and Development amongst engineers during the formative years of their courses. Research and Development (R&D) Cell of MGIT paves the way for our students to begin their professional career with new ideas and innovative skills. The institute provides grants-in-aid for collaborative or individual work related futuristic front line research having application in the new world class systems, which leads to major research.
Early investment in technology is reaping its benefits at MGIT. Be it campus-wide ubiquitous Wi-Fi, state-of-the-art infrastructural facilities, well-equipped laboratories, sophisticated Seminar halls or Waiting-rooms for girl students, Canteen, cafeteria and many more facilities to give the students the most enriching campus life experience.
Finally, I invite all the stake holders and well wishers of this Institution to make it convenient to come and interact with us. Your feedback and suggestions will be highly appreciated and treasured to take our Institution to the greater heights of glory. I appeal to all the students to make optimum use of the infrastructural facilities and opportunities available at the institute. I express my profound sense of gratitude to all the stakeholders, students and staff whoever worked hard and helped us to to take the institution to the current status.
I conclude with a quote by N.R. Narayana Murthy "Engineering or technology is all about using the power of science to make life better for people, to reduce cost, to improve comfort, to improve productivity, etc."
Happy Learning…
Best Wishes & Regards.