Department of Metallurgical & Materials Engineering
HoD Message | Fees and Financial Assistance | Faculty | Facts & Figures | MoUs | Announcement | News & Events | Time Tables | Syllabus | Gallery | Department Committee's | Student Clubs | Newsletter | Contact
HoD's Message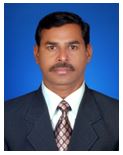 Dr. K. Ramanjaneyulu
Department of Metallurgical and Materials Engineering
Greetings and Welcome to  the Department of Metallurgical and Materials Engineering,Mahatma Gandhi Institute of Technology Hyderabad. The department was established in 1997 and has been offering an undergraduate program in Metallurgical and Materials Engineering with an annual intake of 60 students since then the department has highly motivated and dedicated faculty members with academic credentials from IITs, NITs, HCU etc. They are excelling in both teaching and research in the field of Metallurgical and Materials Engineering. Most of the faculty members are conferred with prestigious awards at national level and are serving as Chief Editors, Reviewers of National and International Journals. The department has funded research projects sponsored by Aeronautics Research and Development Board (ARDB), DRDO, New Delhi.The Department has been sanctioned with Steel Chair Professor and Student Scholarships (Rs. 10,000/- per month each for 10 Students for a period of 5 Years.) by Ministry of Steel, Government of India.
The strength of the department is the Alumni, spread across the globe, bringing laurels to the Department. Many alumni are working in highly reputed organizations such as ISRO,DMRL, Steel Plants, DRDL,ARCI, IITs, Universities in USA, Germany Australia etc.Majority of the students when they join are average class and with dedicated effort of faculty, they are turned into excellent and personalities matching with the skills of bright students emerging out from IIT's and NIT's.
With a very good Industry Institute – Interaction, the department is associated with industries like NFC, SAIL, HINDALCO, MIDHANI,ISRO, NMDC, SANDVIC Asia, JSW, Impact Metals, Sano Hi-grade Spectro Castings.The Department has MoUs with Research Laboratories like DMRL, RCMA and core industries like Impact Metals, Sano Hi-grade Spectro Castings etc. The Department also has good interaction with several IITs, NITs, Universities, Institutes of National importance. This interaction is helping our undergraduate students to get very good exposure to latest technologies and also to carry out their project works at Industries and National Research Laboratories.
The students of the department are associated with various professional bodies like Indian Institute of Metals (IIM), Indian Institute of welding (IIW), Indian Society for Technical Education (ISTE), Indian Society for Non-Destructive Testing (ISNT), MMT Technical Association etc. The students are getting immensely benefited from thevarious workshops/seminars/conferences conducted by the student chapters of these professional bodies.
The students are always encouraged to participate in various professional activities and to carryout innovative projects. The students of the department have bagged Innovative Projects Award at UG level instituted by Indian National Academy of Engineers (INAE). Several times Faculty received best Ph.D. thesis awards from INAE, Indian Institute of welding (IIW) and best oral and poster presentation awards from many Professional societies.